Our team has been thrilled to see the support of martial arts school owners pouring in daily by means of orders for our fundraising kits. We have surpassed 100 orders this month for kits and are hopeful that these school owners and instructors will be successful in their sales.
If you jumped on the pink wagon early this year, you should have received your order by now. Dont worry, though, there is still time to place an order and get it before Breast Cancer Awareness Month (October) begins. Click Here.Pink Belt Revolution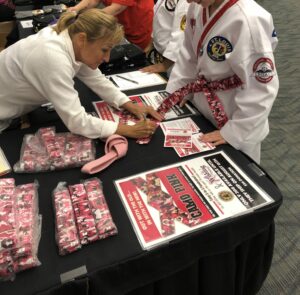 For each pink belt sold, half of the profit from the funds paid for that belt contribute to our grant pool, which is used to distribute money to the children who have previously written in to us and made a 'wish' for their mommies. The other half goes toward the HU Lee Foundation's scholarship fund.
This makes each pink belt, each fiber in its fabric, each stitch holding it together, even more special; something to be cherished.
Show us your pink belts this year with the hashtags #wishingformommy #pinkbeltrevolution and #atapink
Thanks for the support!